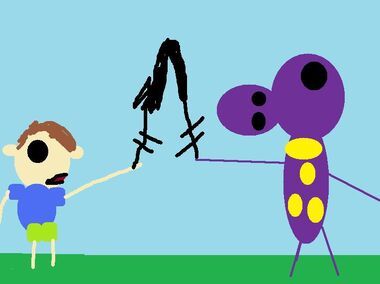 Whalee's Pretend World Wiki
Edit
Welcome to Whalee's Pretend World Wiki! This is the place to find out all the facts about Whalee's Pretend World! Feel free to fix spelling and grammar on pages. If you edit, add things to categories, and add pictures, you could get Hippos, the Whalee's Pretend World Badges!
-Whalee402
About the Pretend World
Edit
I first created the Pretend World as a subject to write about in my books. In the Hippo Story books, it follows the Baby-Hippo War and how the Eyes of Akor and Shadows are major parts. In the SMO&W series, it follows King Sammy and his space travelling crew, which zoom around space fighting Cion's brother Sion and some other evil villdizses.
On New Worlds
Edit
New Worlds is the name for all Worlds-related things from
Liepos's
rise onwards. It first focused on Liepos and the
Serpentinite
and how
Evil
had to be stopped. After that other worlds started to take part more during
Larhien's
reign of power. Eventually, following Larhien's death,
Arkor-Kolas
rose to power. Now Worlds is featuring
Arken Zirrh
and
Travikoris
, and the noble knights of
Claracks
' attempt to stop the rising
Goblin
armies
. The Third Questline will begin in January-February 2013.?
Latest activity
Edit
Community content is available under
CC-BY-SA
unless otherwise noted.